Surgical Suite Equipment
Colonial has the products to assist in a more efficient and reliable surgery suite.
DSx Warmed Surgery Table
DSx Warmed Surgery Table: A heated procedure surface with downdraft anesthetic gas evacuation.
Part # 965500
Adroit Warm Water Pump
Water circulating pump effectively warms animals to assist in body temperature maintenance during surgery, in recovery and in critical care.
Part # 000A4084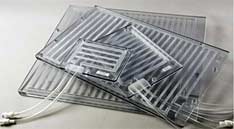 Connects to the Hallowell Hardpads. Durable polycarbonate construction. Claw, bite, scalpel, needle, and towel clamp proof. Smooth Surfaces are easy to clean helping to prevent infection.
Part # - various size pads available
Canis Major Exam Lift Table
The Canis Major Exam Lift Table is height adjustable from the floor up to a maximum height of 44", giving it the greatest range of motion on the market. The Canis Major also has all the quality features you need to create unparalleled efficiency in your practice:
300 lb load capacity
Perpendicular design allows for eye-to-eye contacts with the client and unrestricted access to both sides of the table
Only the tabletop moves, unlike other units where the tabletop and back move as one piece, so the Canis Major scale weight display remains at eye level no matter the position of the table.

Part # CMWO
Matrx Canis Major Dental Wet Table
Adjustable-height lift table is now available with wet treatment tub.
The table is designed to eliminate lifting to the treatment table and to allow for a variety of operator positions.
Temperature controlled water with ultralight 8' sprayer.
Internal sensor and peristaltic pump for automatic draining
Back modesty cover encases all moving parts.
Removable hair trap and easy clean drain.
Lowers to within 7" of floor and rises to 44"

Part # CMDT-45
Midmark M9 & M11 Ultraclave® Automatic Sterilizers
Intuitive LCD display and simple prompts help you select the cycle you need
Upon completion of sterilization cycle the door opens automatically to dissipate the steam and provide fast, efficient drying of instruments
Reservoir fill & drain tube are at the front of the unit
LCD alerts if door is not completely closed or if water level is low, and will prevent sterilization until unit is attended to

Part # M9-020 / M11-020
355 Minor Surgery Light
Truer color temperature with less heat
Available in five-caster base and single or dual ceiling mount
Durable & easy to clean

Part # 355-022
Anthony Cylinder Transport Carts
High tensile strength steel offers greater durability
Large, quiet, easy rolling wheels

Part # 6124 / 6105-M6
See the complete line of Midmark products: midmark.com
We also offer the complete line of Blickman products --
View the entire catalog at: blickman.com
Search CMS: